Regular price
$184.00 USD
Regular price
$0.00 USD
Sale price
$184.00 USD
Unit price
per
Sale
Sold out
Don't have your image ready?
No worries! You can email it to us later.
All prices are in Canadian Dollars.
This kit comes beautifully packaged with everything you need to get your paint on.
About

This kit is perfect for individuals, tiny groups of 1-4 people, experiential marketing + branding projects, or for bulk gift orders and paint nights.
Kit contents

Your kit includes everything you need to create your custom paint-by-numbers masterpiece:

one 12"x18" (rectangle) or 12"x12" (square) canvas print of your yet-to-be-painted image wrapped onto a gallery-style wooden frame
numbered set of acrylic paints specific to your image
professional paintbrushes (3)
magnifying glass
instructions

...and a whole lotta fun!

Add-ons include an easel + apron for an elevated experience! 
Photo Tips

Here's the top things to look for when choosing your image:

1) The photo must be yours OR you must have permission to use it. 

2) The best images for us to work with are:

digital

high resolution

clear, crisp images where there is a clear difference between the main subject (e.g. someone's face) and the background (e.g. trees or sky). Portraits work best with close up faces.

colourful & bright



Our Gallery + our Instagram page have some examples of great images to convert into a Paintillio. Have a peek and if you want some advice in selecting the best one, send your short list to us in an email and we'll be happy to help choose the winner.
View full details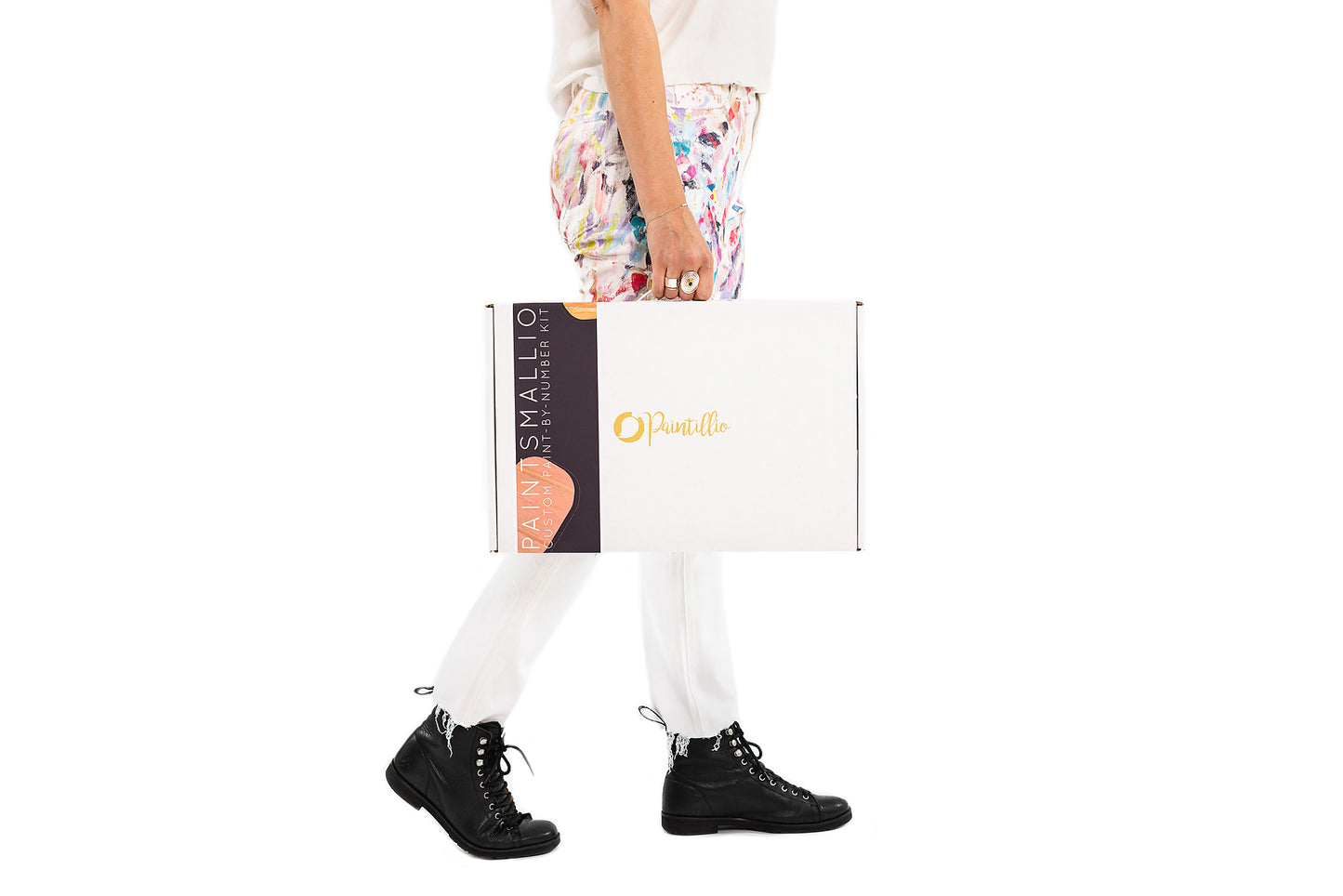 Shipping

Costs are based on location, and will vary depending on your shipping address. You can estimate your shipping rate in the checkout process without having to make a purchase.

Turnaround Time

Your kit will arrive in approximately 3 - 4 weeks. Keep in mind that holidays and other times of unusually high volume may require additional processing time. 
Unwind
Studies show that painting can be extremely relaxing. It can relieve stress, reduce anxiety and tension, and allow people to process emotions and feelings without having to use words. It can help to improve mental, emotional, and physical states.
Contact Us
"We ordered a custom painting from Paintillio to celebrate the life of one of our pets, who passed away. The canvas and paints came in a beautiful package and the little jars of paint were so convenient and easy to work with. The complete painting looks exactly like him. ❤️ This is such a precious keepsake for our family. Thank you."